ABRIS – only one Ukrainian company at the INTERGEO 2017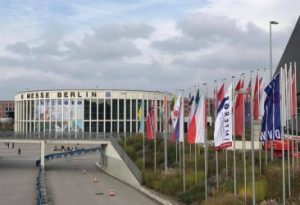 We are proud to be the only Ukrainian company presented at INTERGEO 2017 that develops and produces unmanned aerial systems! Thanks to ABRIS DG the flag of Ukraine has risen above the largest European exhibition center – Messe Berlin.
To look a photo from an exhibition it is possible here >>> 
Berlin/Karlsruhe, 28 September 2017 | After three incredibly successful days in Berlin, INTERGEO 2017 has drawn to a close. The trade fair and conference have been carried on the crest of the unstoppable wave that is digitalisation. Displaying a truly impressive spirit of innovation, INTERGEO confirmed its position as the world's most important communications and networking forum for geo-IT.
The motto of the exhibition this year: INTERGEO 2017 – "We are bringing worlds together".