SkyLink

Drone powered by a ground power supply
Drone has great flight characteristics and is powered by a ground power supply. This allows the drone to hover indefinitely over a given point at an altitude of up to 200 meters.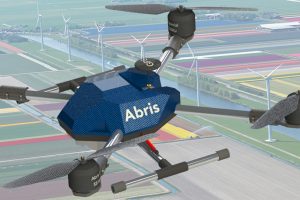 Takeoff, landing and flight are carried out in an automatic or semi-automatic mode. The operator is not required to have any special training. A video camera, IR camera or other specialized equipment can be installed on board. The control of the equipment and information transfer is carried out over WiFi.
Automatic parachute system will ensure a safe landing in case of emergency or power outage. A portable diesel-generator or car battery installation can be used as energy source. ABRIS SkyLink can be easily installed in the back of a pickup truck, which can also serve as a launching pad. Deployment time and pre-flight checks take less than five minutes.
Features
| | |
| --- | --- |
| Name | Value |
| Max take-off weight, kg | 5 |
| Payload capacity, kg | 0.5 – 1.5 |
| Max continuous hover elevation, m | 200 – 100 |
| Time to reach max elevation, min | 2 |
| Max wind tolerance, m/s | 12 |
| Voltage, V | 220 |
| Current type | AC, single-phase |
| Max power consumption, KWt | 2 |
| Emergency landing velocity with a parachute, m/s | 5 |